Buying Terrapin Supplies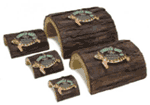 One thing that is not always easy, especially if you live in the UK, is finding stores that sell good terrapin equipment and supplies.

Many times I have visited my local pet store only to find they have a very limited stock of terrapin supplies.

Food is one of the areas I always struggle in, most pet stores I have visited only stock the smallest food tubs, that is ok in an emergency but my terrapins are too large and get through small tubs in a matter of days.

Another area you may struggle in is finding suitable terrapin aquarium equipment, for example a basking area. In fact I have found that the best place to buy terrapin supplies is online.

There are several good online stores that stock plenty of terrapin supplies and equipment and I order most of my terrapins things online. The best sites are usually based in USA which means you may have to pay in dollars but its usually a lot easier and cheaper to buy from a US-based pet store. I have done it many times without any problems and the shipping is normally quite reasonable.

With this in mind here are my top 5 rated terrapin products available online:

1. Floating Terrapin Log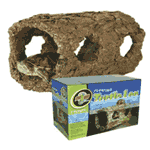 Zoo Med's floating terrapin log is the first product on the market designed for interactive play with your pet aquatic terrapin! Provides security, comfort and stress reduction for all aquatic and semi-aquatic turtles.

The log is bottom weighted to allow turtles to climb on top to bask without rolling roll over. Holds two 4 inch (10 cm) terrapins without sinking, or one terrapin up to 6 inches (15 cm).

Best Buy: $19.70 from Reptile Supply


2. Terrapin Deck


Tera Rep's Terrapin Decks provide simple, stable and easily cleaned platforms for aquatic and semi-aquatic terrapins to exit the water and bask as they would in their natural environment.

The Decks are designed to fit a wide range of aquatic terrarium situations and are easily adjusted for the depth of the water environment.

The Terrapin Deck is constructed of a single piece of formed clear acrylic with suction cups to attach it to any smooth surface. The Terrapin Deck can also be used in dry terrariums and will provide many reptiles with a multi-level platform for basking and regulating their body temperature.

Best Buy: $15.14 from Reptile Supply


3. Floating Basking Platform


Perfectly tailored to the basking needs of terrapins. Give your terrapin an opportunity to regulate its body temperature by basking, with a platform that stays accessible at any water level.

A suction cup system keeps the buoyant platform from floating around the tank, yet allows easy removal for tank cleaning. Clean scale and algae from the platform's non-porous surface by scrubbing with soap and water.

Best Buy: $16.65 from Reptile Supply


4. Zoo Med ReptiSafe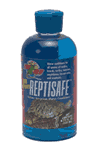 Removes Chloramines and Chlorine
Detoxifies Nitrites
Removes toxic Ammonia
Provides essential ions and electrolytes
Helps in hydrating new animals
Stimulates slime coat development providing a natural protective barrier
Reduces pH (very important)

ReptiSafe is the only terrarium water conditioner on the market. No harsh chemicals (that you can't pronounce) used. Unique organic colloid and organic chelating agent delivery system. Very safe to use and helps to keep your terrapin healthy.

Best Buy: $4.17 (8.75 oz) from Reptile Supply


5. Zoo Med Terrapin Hut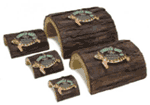 Zoo Med's Terrapin Hut works great on land or in water. It is a natural looking half log shelter for aquatic terrapins, box turtles or land tortoises.

Can be used dry or submerged in a terrapin tank.

Best Buy: $9.88 (Giant Size) from Reptile Supply


Of course there are also a range of online stores I have tried and can fully recommend. The table below shows the top 5 stores I have used for my own terrapin supplies.

Top Online Terrapin Stores:

| | | |
| --- | --- | --- |
| | My favourite store and where I buy the majority of my terrapins supplies. A good range at low prices with cheap shipping. | |
| | That Fish Place offers a big range of terrapin supplies. It is a little more pricey than Reptile Supply but it does offer free shipping on certain orders. | |
| | PetSmart have a limited range of turtle supplies but do have quite a wide range of general aquarium equipment that can be used in turtle set-ups. | |
| | Fish.com is a specialist in fish and aquarium supplies. They do not stock any specialist turtle products but do offer some great deals on aquariums and accessories. | |
| | If you are looking for an unusual gift for a friend or relative who is a turtle lover, or even a treat for yourself then the Animal Den stock a range of beautiful products. | |
Wherever you decide to shop for your terrapin supplies make sure that the product you buy is suitable for your type of terrapin. Happy Shopping!