Complete Terrapin Care Guide Review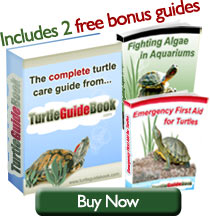 Quality of Information
Excellent
Quantity of Information
Good
Price
Just £9.95
Guarantee
60 Days
Support
Excellent
Recommendation
Must Buy!
Although my site gives a very good overview of terrapin care you can always benefit from even more detailed advice from another experienced terrapin keeper.
The Turtle Guide Book is an excellent terrapin care guide for both beginners and experts and can really give you an edge in looking after your terrapin properly. Sometimes you can find terrapin care a bit daunting, well, my site combined with this unique guide can make that fear a thing of the past.
What you will get:
A comprehensive terrapin care guide from an expert keeper
More advanced information than even on this site
More hints and tips to help you become a better terrapin owner
Two bonus guides to provide you with additional resources and backup
A full 60 day money-back guarantee
I was very impressed with this book as it takes a lot of what I have written on this site a lot further, giving you a better understanding and some very useful tips I have not covered here. A turtle is exactly the same as a terrapin so do not let yourself be put off by the books title.
Click here to find out what's included in the full terrapin guide
In addition to the main guide you will also receive two free bonus guides one on fighting algae in terrapin aquariums and the other on performing emergency first aid on terrapins. You will find both of these bonus guides invaluable as they are superbly laid out and contain expert advice. Again these are not topics I have covered on this website.
The first aid one is particularly useful as it will help you identify illnesses and injuries your terrapin encounters and provides a step-by-step guide on how to bring your terrapin back to full health. This could not only save you money on vet bills but it could also save your terrapins life.
Click here to find out about the benefits of the Turtle Guide Book
The Turtle Guide Book also has glowing feedback from its past customers with loads of testimonials like the one below:
Testimonial – Violet, UK
"This was our first time with a turtle and although we had all the basics, we still didn't have the experience , so this was really good in helping us get to know more about our terrapin.
It is a well thought out guidebook, with lots of information that helped and gave us good advice on what things to feed our terrapin and things like that.
A five-star guidebook, and I would definitely
recommend it to my friends!"
Read more testimonials by clicking here
In fact, such is the popularity of the guide amongst its customers, in a recent survey the Turtle Guide Book was rated 4.5 out of 5 for its overall value for money. In addition, 100% of the people surveyed agreed or strongly agreed that the Turtle Guide Book had helped them become more knowledgeable about terrapins:

See more survey results by clicking here
Perhaps the icing on the cake, and the factor that persuaded me to give the guide a try was that you get a 60 day money-back guarantee with your purchase. Having read the guide I would be very surprised if you wanted to claim a refund because it is that good. However, it's nice to know the option is there and your purchase is risk-free.
Summary
I do not recommend many products, especially for terrapins. However, the Turtle Guide Book really caught my eye. It is unique and full of quality information. The 85 pages of content and such a low price make it fantastic value for your money.
If you want to learn more about terrapins and have a handy guide that will inform and instruct you on how to give your terrapin a better quality of life, I have seen no better option than the Turtle Guide Book.
Click here to buy the Turtle Guide Book for a limited time price from just £9.95