Free Terrapin Care, Advice and Tips
Helping You Care For Your Terrapin Better
Do you own a terrapin? Do you want to learn more about this fantastic pet to ensure you can give it the care it needs?
You have come to the right place, my site is the most comprehensive free terrapin care guide on the Internet.
As a terrapin keeper for over 10 years I have put this site together to help you become a better terrapin owner.
Terrapins make wonderful pets once you fully understand them and know how to care for them properly. They are one of the oldest, and most fascinating, animals on this planet. Those who keep them become passionate about them.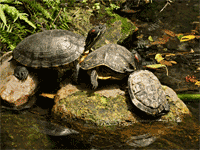 I am one of those passionate terrapins keepers and after acquiring my first terrapin at the age of 18 I have been obsessed with them ever since.
I now own 7 terrapins in total and have encountered virtually every problem an owner is ever likely to face.
From illness and disease, through to unexpected breeding, I have even had to deal with the grumpiest terrapin you are ever likely to meet! Throughout all of my trials and tribulations I have read countless books, articles and websites to further my knowledge on terrapin care.
A detailed free care guide for your terrapin
I have put together this website for you to enjoy and learn from. Quite simply I was sick to death of the lack of quality terrapin information that is available for free.
There are too many sites around that give poor inadequate advice on looking after terrapins (or turtles as they are sometimes known).
My aim is to give you a one-stop resource for all your terrapin care needs – for free. However, if you are the kind of person that prefers to read a physical book rather then articles online I can recommend a very thorough terrapin care book.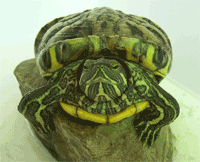 So, if you are ready to learn more about the fascinating world of keeping terrapins as pets then your journey is about to begin.
If you take the time to read through my site then you will be rewarded with an increased knowledge about terrapins and a much more rewarding relationship with your pet.
There are many pages packed with information on my site and the best way to work your way through all of them is to use the menu at the top of the page, to the right of the "Home" button and just under the cute terrapins at the top of the website!
There are also many posts, which are regularly added to, on different topics of interest and you'll find the links to those to the right of the page.
Wishing you happy times with your terrapins and do contact us with comments and stories you'd like to share.  We'd love to hear from you!
Testimonial – Dave Maclean (England)
"Hi – I Like what I have read in the three chapters, have ordered the full download book..
Whilst my main interest is in Common and Alligator snapping turtles I am sure I will enjoy this informative book.
Cheers
Dave Maclean"