Common Terrapin Illnesses
>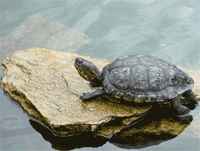 Longevity of terrapins is much more than other aquatic creatures which demands extra care.
In captivity, terrapins may suffer from a number of diseases which, if not treated by an experienced veterinary surgeon immediately, deteriorate soon and can even be fatal.
Any injury should also be taken care as early as possible to avoid severe complications.
Terrapin health is largely related to its surrounding and the feed. The size of the terrapinarium, clean water with regular change and filtration, controlled water temperature, natural sunlight or artificially provided UV light and balanced food with additional supplement of vitamins and minerals (especially calcium) are the essential things to take care of for their well-being.
They may suffer from various infections caused by the foul water and most severe of them is the sore of oral-cavity due to which they may stop taking foods. It can be detected by watching them carefully. They may keep their mouth half open and emit a terribly foul smell.
Ear infection with pus formation also can occur. Too cold water can cause severe respiratory infections causing runny nose, pneumonia, cough, over production of mucus, unbalanced and improper swimming etc.
Blindness is another common ailment caused by the lack of vitamin D, which they absorb from the sunlight, and vitamin A. Minerals like Calcium in the diet play an important role. Soft, rubbery, deformed shell or white patches on the carapace can occur due to calcium deficiency or calcium-phosphorus imbalance.
Cracked shells, signs of worms or blood in the droppings, swellings or cuts are other ailments which bother terrapins quite often. By proper monitoring these can be detected and treated.
Following are the few possible ways to keep a terrapin healthy:
Proper treatment by an experienced veterinary doctor before it is too late.
Administration of antibiotics or antifungal medicines whenever necessary.
Water should be cleaned and replaced regularly.
Provision of an easy to climb island inside the terrapinarium to help them in drying up occasionally.
Natural sunlight or artificial UV light can supply them necessary Vitamin D to strengthen their shells. Vitamin A, in the form of cod-liver oil can be given daily as drops with every feed to keep their eyes healthy. Powdered mineral supplements are also essential for the terrapins in captivity.
Maintain the water temperature between 75°F to 80°F.
Isolate the sick terrapin from the healthy ones.
Always remember – prevention is better than cure. For more information about preventing and curing terrapin diseases please see my Turtle Guide Book review.