Turtles have been inhabiting this earth even before the first human walked on it; they are around since the dinosaur era.
They are the oldest living creatures on our planet. The earliest turtles are dated as far back as 215 million years. Fossils from as far as 180 million years ago have been found all over the world.
Back then, their bodies were a bit larger, and surprisingly, they had small teeth as opposed to turtles of today who have no teeth.
In the ancient era, the earth was globally warm, and the turtles or terrapins of present times still find comfort in a warm climate and fail to survive in colder conditions.
Today, they are found almost all over the world, except in Antarctica and the Arctic, and more in the tropical regions where the warm climate is conducive to their breeding. If you are keeping a terrapin in an aquarium, try to maintain a temperature of around 24-28°C.
Here are some more facts about these fascinating creatures:
Terrapins are native to North America, where they were first discovered by Europeans in the early 1500s. Today there are

over 100 species

of terrapins found throughout North America.

A terrapin looks very much like a turtle but has a

long tail with webbed feet

. It also has a large head with a beak-like nose.

The shell is made up of three parts: the

carapace

(the top),

plastron

(the bottom), and

neck

.

A mature female terrapin may weigh as much as

30 pounds

or more while an adult male may weigh only about 10 to 15 pounds.

Their life expectancy averages

15 to 20 years

under the right conditions and may cross 30 years, depending on the species they belong to. So, one should be prepared to take care of a pet that has a longer life than most other pets.
Terrapins love water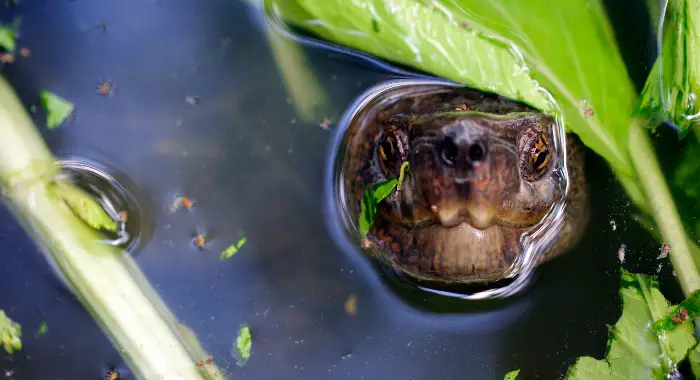 Terrapins have been known for centuries because of their ability to live in fresh water and saltwater environments.
They can breathe underwater, as their lungs contain gills that allow them to extract oxygen from the surrounding water.
Indeed, water is all-important to them. They need access to fresh water to drink. If terrapins don't get enough water, they may suffer from dehydration. Dehydration causes their skin to dry out and crack. It also makes their blood less able to carry oxygen. In severe cases, terrapins may lose consciousness and die.
However, terrapins are definitely land animals and spend most of their time on land.
When terrapins venture into the water, they use their webbed feet to walk along the bottom of the terrarium. They also use their tails as oars to help propel themselves through the water.
What do terrapins eat?
Terrapins are omnivorous and will eat anything that they can get their mouth around!
Their diet is varied and includes a wide variety of foods, including many different types of aquatic plants, insects, fish, crustaceans, mollusks, worms, snails, frogs, small mammals, birds, eggs, fruits, seeds, nuts, berries, algae, fungi, and even other reptiles.
They also feed on dead fish and frogs. Thankfully, they'll be just as happy with something easier to find, like this Turtle & Terrapins Food Mix.
How do terrapins reproduce?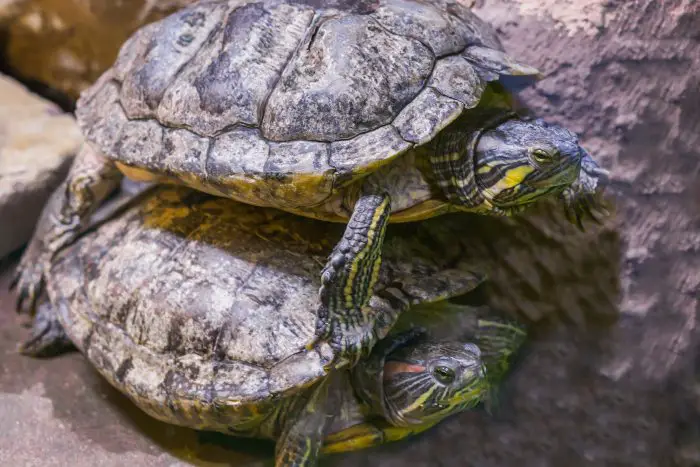 Terrapins reproduce through internal fertilization. This means that the male and female produce sperm and egg cells inside their bodies. These then combine to form embryos that develop into baby terrapins.
Terrapins begin breeding between ages 3 and 5. Some species of terrapins breed as soon as they are born. Others wait until they are older.
The female terrapin lays eggs between April to July in the sand above the line of high tide. She normally lays eggs once a year; twice at times. The size of the clutch varies from 4 to 18 oblong-shaped pinkish-white eggs. The incubation periods are temperature dependent and differ from 61 to 104 days.
The young "hatchlings" are about one inch long and weigh between 6 to 10 g. The nest temperature determines what gender the hatchlings are. The warmer the nest is, the higher will be the number of female terrapins.
Terrapins grow very quickly. They typically double their weight every three days. By the end of their first year, terrapins can be almost twice their size. They grow to about 10 to 12 inches in length.
The terrapins take about three to eight years to attain full maturity. Female terrapins are larger than males. One should have knowledge of the speed at which they grow when deciding to keep it as a pet.
They may weigh 100g and be 2cm in length across the shell when one buys it, but at four years they could be 2kg and 25cm, respectively.
One can roughly estimate the age of a terrapin by counting growth rings that appear on the scutes of the plastron and carapace.
As the terrapin ages, its growth rate slows down, depending on the living conditions it has been subjected to.
What do terrapins need in their tank?
Terrapins require plenty of space in their tanks.
A large terrarium should provide at least 10 square feet of floor space. The terrarium should also include a hiding place where the terrapins can feel safe.
Finally, the terrarium should have a deep layer of sand or gravel so that the terrapins can dig down to hide from predators.
Your terrapins will also appreciate a water heater, a basking platform dock, and a heat lamp they can bask under.
As for cleaning, you should clean your terrarium once a week. This includes cleaning the filter, changing the water, and removing any waste products. You should also change the substrate (the material on which the terrapins live) once a month.
Why should I care about terrapins?
Terrapins are one of the most threatened groups of animals on Earth today. Many populations of terrapins have declined dramatically due to habitat loss, pollution, invasive species, climate change, and human activities such as hunting, trapping, and fishing.
If you wish to find out more about these fascinating creatures or even adopt a terrapin, please consult my terrapin book review.