What is it Like to Have a Terrapin as a Pet?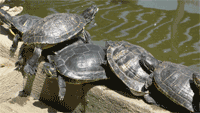 Getting any new pet for the family, whether it be a cat, dog, or terrapin, is always a major step and should therefore be a carefully thought-out decision. The new pet will affect the lives of you and the people around you, and vice versa.
Terrapins are fairly docile and enjoy being held, petted, and played with. This makes them great pets for older children, as they are very friendly and easy to understand.
However, keepers are cautioned against handling them roughly because they can bite if they feel threatened. Therefore, they are not recommended as pets for little children.
As pets, terrapins come with the huge advantage of a long average life expectancy, so attachments aren't short-lived. Indeed, a decades-long commitment may be required.
Unlike many other pets, terrapins do not require any training. In addition, they do not eat every day, and sometimes may not even eat for up to a week—a trait that is common with all reptiles and very cost-effective!
It is important to research the type and gender of turtle you are interested in. Some terrapin breeds start out as tiny little critters but grow to the size of a car wheel. Also, in many species of terrapin, the female grows to a much larger size than the male does.
Box terrapins are a common species to keep as pets. They are small in size and grow to a maximum length of six inches. This small size is a positive factor for their choice as a pet, as one can keep more than one of them without the habitat getting overcrowded.
A wonderful starter pet
When you are looking for a pet, you should first consider a host of issues such as finding it a suitable habitat, health and hygiene, the type and extent of care the pet needs, acceptance by other household pets, and the regard and behaviour of your family and friends towards them.
Keeping all this in mind, families often look for a "starter" pet. Essentially, these are animals that are considered low-maintenance and low-cost.
A terrapin is a highly recommended choice as a starter pet. They are sometimes referred to as "turtle kitties" and most owners will tell you that they are wonderful pets in many ways.
"Less work than dogs and cats, more interactive than fish… They're extremely interesting and have individual personalities. But they are exotic pets (and therefore require specialized care)." – Phys.org
Terrapins are considered low-maintenance pets because they don't require much food, water, or exercise. They're also fairly easy to care for, requiring no special diet or treatment beyond providing access to plenty of clean water.
What do you need?
A suitable enclosure
If you want to keep a terrapin as a pet, you will need to find a suitable home for him or her.
Most people keep them in aquariums, while others keep them in terrariums. Either way, you'll need a space big enough for both the tank and the terrapin itself, as terrapins require plenty of space to live comfortably.
Once you have chosen your preferred type of terrapin, you will need to determine how big you'd like your tank to be. A standard aquarium is fine for a small terrapin, but larger tanks are recommended for larger species or if you plan to keep multiple terrapins.
The tank needs to be large enough to hold several inches of brackish (salt) water in which the turtle can swim. A terrarium measuring 12 to 20 gallons is sufficient for smaller animals. This size provides enough room for the turtle to move around freely while still being able to submerge himself or herself completely in the water.
Terrapins can be messy, so their living area should be well-contained and needs regular cleaning, a commitment that needs to be taken seriously. Cleaning supplies include a scrub brush and a sponge. Both items should be cleaned regularly.
In addition to regular cleaning, the enclosure must be checked daily for signs of disease. This includes checking for algae growth, dead fish, and insects, and examining the animal's mouth for sores or wounds. If necessary, the enclosure should be disinfected with a bleach solution.
Finally, you'll need to choose a substrate. Substrates are the material used to cover the bottom of the tank. There are different kinds of substrates, each suited to different terrapins. For instance, sand is good for smaller terrapins, while crushed coral is better for larger ones.
Plenty of light
You will need to figure out what kind of lighting you want to use. Most terrapins prefer fluorescent lights over incandescent bulbs since the former give off less heat.
You may also want to invest in a light fixture that allows you to change the colour temperature of the bulb. This way, you can adjust the lighting to match the terrapins' natural preferences.
Heat
Terrapins spend a lot more time on dry land than in the water, as they like to bask in the sun. Because terrapins are cold-blooded creatures, they need to be kept warm at all times. Ideally, you will have access to a garden or yard with plenty of sunshine.
There should also be a heating source, such as a heat lamp, to keep them warm on colder days.
An electric heater placed inside the enclosure also works well for this purpose. During summer, the heaters should be turned off to allow the terrapins to cool down naturally.
Terrapins like to hibernate in winter, so having a cellar or a basement that is not heated may be an alternative.
Extras
Depending on your budget, you may want to add extras such as a basking platform dock and a heat lamp, as well as an aquarium filter, water conditioner, and water heater.
What do terrapins eat?
With the enclosure ready, you need to consider what your terrapin will eat. Terrapins are omnivorous, meaning they eat both plant material and animal matter.
Terrapins enjoy meat such as fish, crayfish, earthworms, turkey, and chicken. In addition, they eat a lot of vegetables and fruits.
Your best choice is to buy a balanced mix for turtles and terrapins.
The best way to feed the terrapin is to place the food directly on the turtle dock where you can see how much food is left. Place the food in a separate container on the dock to keep the main tank clean.
For more food ideas, check out our food choices for terrapins!
Where to find a terrapin
Terrapins such as diamondbacks are native to North America, where they live primarily along the Atlantic coast. However, they've been introduced into many parts of the world, including Australia, New Zealand, South Africa, Japan, and the United Kingdom.
Never take a wild terrapin as a pet, as they are not well-adjusted to living in captivity and will not be happy or thrive under these conditions. Some wild terrapins may carry salmonella, so it is advisable to have a check-up done and to always wash your hands after handling one.
Needless to say, a trained veterinarian located close by is a necessity. If you are ready to wholeheartedly commit to their care, terrapins make great pets.
Terrapins can easily be found online but ensure that you use a reputable source. While buying a terrapin is illegal in the UK,  you can always give a good home to a poor unwanted pet terrapin. We have compiled the complete terrapin handbook with everything you need to know about looking after your very own pet terrapin.