If you are wondering where to buy a pet terrapin, you should know that terrapin sales in the United Kingdom have been illegal since August 2016.
The reason behind the ban is that terrapins are non-native to our country and may have the potential to become invasive—even though that's still not certain.
However, all is not lost. While you cannot buy a terrapin, you can still receive one, as long as no money changes hands.
That means, you can take in a pet terrapin from an owner who can no longer keep it. However, you should ask for proof that the terrapin was originally purchased before the new laws came in in 2016 to ensure you stay the right side of the laws.
The best place to find terrapins that need a new home are by checking dedicated rehoming groups on Facebook and other online sites.
Why are terrapin sales now considered illegal?
As of 2023, it is estimated that 4,000 terrapins are in the wild, most of them abandoned by their previous owners.
After the 1990s craze about terrapins, in part due to the Teenage Mutant Ninja Turtles movies, people adopted terrapins without realising they may sometimes grow as big as a dinner plate.
Some pet owners, realising they lack the space to properly look after their pet terrapins, thought that it was more humane to release them in the wild and let them live a happy life near ponds and creeks.
However, terrapins are maladapted to our British shores and find it difficult to manage the difficult winter weather conditions.
Until 2016, terrapins were sold in pet shops—sometimes, in less than satisfactory conditions.
In an attempt to overhaul terrapin sales, the Department for Environment, Food, and Rural Affairs included terrapins in their list of invasive non-native species.
That means, it is now illegal to buy or sell a terrapin.
How were terrapins sold until 2016?
Terrapins used to be sold in pet shops or through brokers.
Some brokers in the UK and other countries bred reptiles and amphibians in captivity and could supply terrapins on demand. Quality terrapins for petting purposes were sold by many UK importers to wholesalers, pet shops, or even companies that supplied them as per mail orders.
Sometimes, "frozen" terrapins were shipped in bulk, especially if coming from abroad. 400 to 500 hatchlings were loaded in a container that might measure as little as 32 cm x 32 cm x 6.5 cm in size.
Many of them died or became sick by the time they reached their destination.
Just like kittens and puppies may not be sold through pet shops anymore, the same happened with terrapins, as their transportation and handling were putting the reptiles' welfare in danger. While prospective dog and cat owners can go to a breeder or to a shelter to get a pet, however, it's illegal to breed terrapins and/or sell them.
What is the terrapin status in 2023?
Pet shops or individuals may not sell terrapins and can be prosecuted or fined for selling an invasive species.
Nowadays, terrapin owners who had bought their terrapins before the ban may hold on to them but are not allowed to breed them.
They may keep them as pets until the terrapin dies but not sell them or release them in the wild. However, they must keep their terrapin in a contained area and even carry them in a transportation tank so they can't escape in the wild.
Terrapin owners may also pass their terrapins on to a new owner as long as no money is exchanged.
Why did the ban on terrapin sales happen?
Terrapins as pets
Even as pets, terrapins require a lot of attention. They need UV lights to metabolise vitamin D which helps keep their shell strong.
They also need food rich in vitamin A for good eyesight.
Responsible terrapin owners are required to take good care of their pets and supply them with nutrients and conditions that imitate their ancestral habitat.
In their own original territories, terrapins would find the necessary diet to keep them sustained. As omnivores, terrapins eat small insects but also aquatic plants. They are smart creatures that know where to find fresh water to drink, even if they live close to the sea.
Terrapins in the wild
The most important reason behind the ban is that terrapins are not adjusted to British conditions. As more and more people freed their terrapins, conservationists discovered wild terrapins in brackish waters, particularly around large cities like London.
Terrapins need mild and warm weather to thrive. After all, they originate from the Gulf of Mexico, where they live around swamps and low-lying lands where lakes and rivers meet with the sea.
The United Kingdom is cold for terrapins, even in summer. Terrapins cannot build up enough vitamin D in the summer to withstand the cold weather that follows because there isn't enough sunshine in the UK, even in the sunniest of summers.
In addition, ponds and creeks are often shaded in the UK, which further limits the available sunlight terrapins adore. Terrapins need 20 to 25 degrees Celsius to lead happy lives. It's only around that temperature that they feel comfortable eating, moving around, and taking in the sunshine.
Temperatures under that hinder their development and well-being. Feral terrapins ultimately don't have the strength to feed themselves and may slowly die of hunger and disease.
A tell-tale sign that terrapins find it hard to survive on our land is that there are no viewings of terrapin hatchlings, which would suggest they are reproducing in the wild. Instead, conservationists typically only see adult terrapins.
Sale conditions in pet shops
Sales of terrapins through pet shops and brokers often failed to follow optimal welfare for the animals. Transportation from faraway lands and countries and crowded tanks were not the ideal conditions for terrapins and many perished in transit. For the benefit of terrapins, their sale was forbidden.
The possibility that terrapins could adapt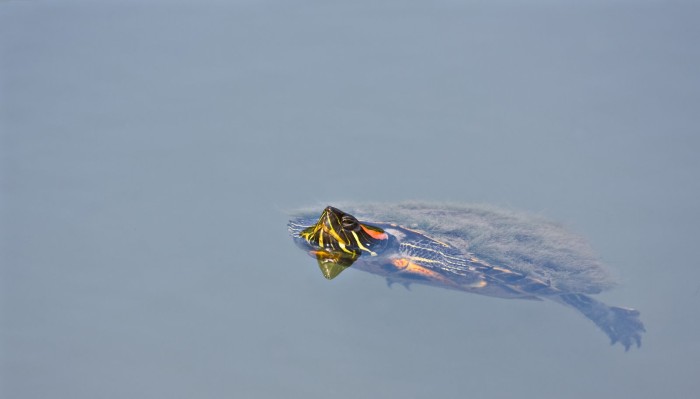 Climate change is unpredictable. We have witnessed hot summers with temperatures that were unheard of some decades ago. As the climate warms up, it is possible that terrapins may find it possible to settle in the wild.
Terrapins, however, are viewed as invasive.
They could compete with native species like frogs and newts, as well as waterfowl and fish that live around and in lakes, creeks, and rivers. They might also disturb other animals' habitats or consume plants that sustain other animal populations.
We are not sure how terrapin might unbalance an already fragile ecosystem. Terrapins lay 8 to 12 eggs, twice or three times a year. This means between 25 and 36 hatchlings for each terrapin mother. Such terrapin reproduction may turn exponential and lead to unsustainable population growth.
Take care of your terrapin
If you already have a terrapin, you don't have to give it away. Take good care of your pet, feed it the right food, and provide a large tank for it to enjoy itself.
Help your terrapin lead a stress-free and adjusted life so you can enjoy their company for years to come.
And if you would love to give a good home to a poor unwanted pet terrapin or need some extra tips for taking care of one, check out our complete terrapin guide—the complete handbook on looking after your very own pet terrapin.