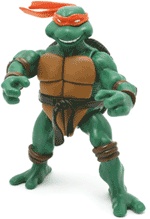 It is long since Mr. Terrapin won the race against Mr. Hare. Unfortunately, Mr. Hare is no more.
He was humiliated by his own fellow hares for the rest of his life.
Mentally shaken, he went into great depression and breathed his last due to a massive cardiac arrest.
Mr. Terrapin is very old now and sometimes, while basking in the sun, he tells the hair rising story of his win to his grand children.
The hares were very proud of their deft and super fast feet and that defeat literally smashed their confidence.
They were shattered, ashamed and angry because of Mr. Hare's failure!
One day the youngsters wanted to re-play the race. Young Torty the Terrapin and Harry the Hare were ready to take the challenge. Speculations were on …Will Harry be able to reassess himself; can he re-establish their lost glory?
Or will Torty be successful to keep the Trophy back in their colony? However the final countdown started…!
This time the organizers gave a fair chance to both of them. They have to go through the jungle terrain as well as across the river, so that no one can complain about anything. Both Torty and Harry were a little apprehensive but they had no option.
The race was flagged off amidst a huge round of applause…
HI…HO…! Run…Run…Harry,…!!!
Run…Run…Torty…Run…!!!
All were shouting;…but Harry and Torty were running at their best speed till Harry reached the river bank…!
Harry was in a fix… how to cross the river? His precious coat will be wet! He was trying to find some other route but even after many serious calculations for half an hour, he couldn't find one.
Suddenly he saw Torty getting into the cold water without any hesitation.
He swam across with extreme expertise, reached the other bank and shouted from there, "Hey Buddy, What's up? Are you scared?"
Harry fumbled, "Y..Y..es!"
"Don't bother, I'm coming back." Told Torty.
And then Torty came back to Harry, asked Harry to sit on his back… and then swam again to cross the river. The result…? Well, they both finished the race together.
Harry hugged Torty; Torty danced tango with Harry. His Majesty King Lion handed the trophy over to both of them.
All the animals were joyous, and had a great feast that evening.
His Highness King Lion happily said, "All's well that ends well, but remember, teamwork is the key to success…!!"